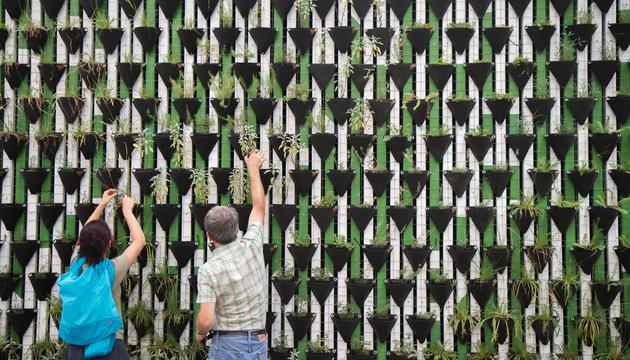 PCAN book addresses local climate action in theory and practice
7th October 2021 - 17:20
A book bringing together a collection of cutting-edge insights into how climate action can and is being taken at multiple levels of our societies has been published in collaboration with the Place-based Climate Action Network (PCAN). 
The open-access book, published by Palgrave, is edited by a trio of PCAN researchers, Candice Howarth (LSE), Matthew Lane (University of Edinburgh) and Amanda Slevin (Queen's University Belfast), with chapters drawn from a wide range of authors with varying backgrounds spread across academia, policy and practice.
Addressing the Climate Crisis: Local action in theory and practice grew out of a mini conference on Local Climate Praxis held by PCAN in November 2020.  The book's three sections span multiple levels of analysis, interrogating diverse perspectives and practices inherent to the vivid tapestry of climate action emerging locally, nationally and internationally. Interconnected yet conceptually distinct, they look, in turn, at the themes of community and place, the spaces of local climate action, and the agents of local climate action.
"Clarion call"
In an era of increasing recognition regarding climate and ecological breakdown, the book offers hope, inspiration and analyses for multi-level climate action, demonstrating how the energy and dynamism of local scales are a powerful resource in turning the tide.
Reviews of the book have been overwhelmingly positive. It has been hailed as "A clarion call to a Government which still hasn't made local government its partner in the battle against climate change" by Lord Deben, Chair of the Climate Change Committee.
"We shall not get to Net Zero without local action and Local and Regional Authority participation," Lord Deben writes. "This book shows how real subsidiarity works and how important it is... These are lessons to be learned at every level and their positive story gives us all renewed hope." 
"New generation of climate experts"
Sam Fankhauser, Professor of Climate Change Economics and Policy, University of Oxford and Research Director, Oxford Martin Initiative on a Net-Zero Recovery, said: "Local communities have emerged as influential drivers of action against climate change and important sources of institutional and behavioural innovation.
"This powerful book, written by a new generation of climate experts, provides a thoughtful introduction into the theory and practice of place-based climate action."
The book also receives plaudits from IPPC lead author Vanesa Castan Broto, Professor of Climate Urbanism at the University of Sheffield, who said the book "points towards the potential for a new, more just, politics of climate change: a politics that puts people's voices at its center".
Miatta Fahnbulleh, Chief Executive of New Economics Foundation, said: "This book provides a rich set of contributions on the theoretical and practical applications of climate action which make an important contribution to the debate on what it means to deliver and assess action on climate change on the ground".